Hello,
I'm Doc. I am an Optometrist located somewhere in the state of Kansas. My main hobbies include music and photography. I play guitar and bass. Listen to classic and contemporary rock, jazz, blues, bluegrass, new age ... just about any kind of music except rap and country.

I also enjoy photography. I take photos of family, flowers, landscapes, planes, cars, trains .... anything I find that's interesting, I guess. I also like taking photos just to experiment with cameras and equipment .... just to see what kind of results I can get.

In this website, I hope to show you a little bit about my favorite things.....music and photography.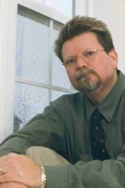 This is a self portrait taken using the self timer feature on a Canon AE-1 Program and a two flash bounce set up.
MY INFO:
Name: Doctor Mark
e-mail: drmark0359@yahoo.com